ECG machine with 8 inch Touch and color screen,Multi-language report formats
12 channel ECG Machine , has large capacity (10 000 exam),
12 Leads ECG simultaneous acquisition,digital signal processor,
Built in battery and AC/DC power supply
Digital isolation technology and signal processing solution, digital filter.
12 Channel Electrocardiograph
8" TFT Color Screen
210 mm Thermal Paper printing
Touch screen and soft keyboard control more convenient for operation.
Simultaneous 12 leads display.
AC filter baseline filter and EMG filter of the ECG signals.
Auto-analysis and auto-interpretation.
Provide more than 10 printing modes.
Up to 10 000 cases in internal memory.
Can print 90 minutes and print out 150 pcs ECG continually.
Comes with PC Software for data transfer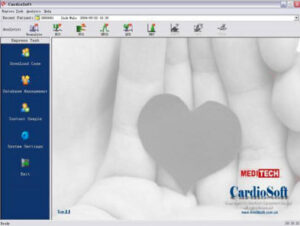 Product Specifications
Lead: Standard 12 leads
Patient leak current: <10μA
Input impedance: ≥5MΩ
Frequency response: 1Hz~75Hz
Time constant: Time constant>3.2s
CMRR: >60dB
EMG interference filter: 25/35Hz(-3dB)
Recording way: Thermal array printing system
Specification of recording paper: 80mm(W)×20m(L) high-speed thermal paper
Paper speed:
Auto record: 25mm/s 50mm/s error:±5%
Rhythm record: 25mm/s 50mm/s error:±5%
Manual record:5mm/s 6.25mm/s10mm/s 12.5mm/s 25mm/s 50mm/s error:±5%.
Sensitivity selections: 2.55102040mm/mV 5 options error:±5%. Standard sensitivity is 10mm/mV±0.2mm/mV .
Auto record: Record setup according to record format and auto mode automatically changing leads measuring and analysing.
Manual record: Record setup according to record format manually changing leads.
Measurement parameters: HR P-R interval P Duration QRS Duration T Duration Q-T interval Q-Tc P Axis QRS Axis T Axis R(V5) S(V1) R(V5)+S(V1)
Product safety type: Class I Type CF defibrillation proof applied part.
Enduring polarization voltage: ±300mV
Noise level: ≤15μVp-p
Fuse specification: 2 pcs φ5×20mm AC time lag; T1.6A/250V(Power supply 220V)
Operation
a) Environment temperature: +5℃~+35℃
b) Relative humidity: ≤80%
c) Power supply: AC:100~240V50/60Hz
DC:7.4V 3700 mAh rechargeable lithium battery
d) Atmospheric pressure: 86kPa~106kPa
Transportation and Storage
a) Environment temperature: -10℃~55℃
b) Relative humidity: ≤95%
c) Atmospheric pressure: 50kPa~106kPa
Input way: Floating and defibrillation protection
Related Accessories
Standard:

Chest Electrode       ……… 6Pcs
Clamp Electrode    ……….. 4Pcs
EKG Cable       …………….. 1Pcs
USB Cable   ………………… 1Pcs
CD "CardioSoft pro"  …….. 1Pcs
Ground Wire    ……………… 1Pcs
Paper Role  …………………. 1Pcs
Power cable  ……………….. 1Pcs
Cleaning Cloth  ……………. 1Pcs

Options:

Case 
Thermal Paper
Trolley
PC(Computer)accessories
Printer accessories